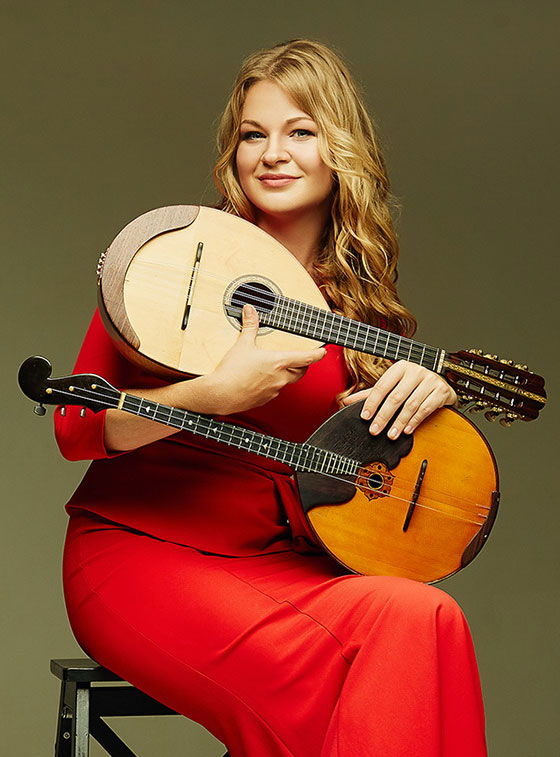 Ekaterina Mochalova is Russian mandolin and domra performer, native of Vitebsk–Belarus where she grew up immersed in music and graduated with honours from the Sollertinsky musical college. Graduating with honors from the Gnesins' Russian Academy of Music (Moscow) in 2012 and a post-graduate course (2014) led by famous Russian mandolin and domra performer, professor Vyacheslav Krouglov, she has played as a soloist with numerous symphonic, chamber and folk instrument orchestras like the chamber ensemble «Moscow Soloists» led by Yuri Bashmet, «Virtuosos of Moscow» led by Vladimir Spivakov, the Ossipovs' National Russian orchestra led by Vladimir Andropov, City Chamber Orchestra of Hong Kong, the ensemble of early music «Telemann Consort», took part in Osaka International Mandolin festival (Japan), «Sulle vie del Prosecco» (Italy), Tamburica-Fest (Serbia), Yuri Bashmet International Musical Festival and many others. Ekaterina is a laureate of 20 international and all-russian competitions, among her awards are the first prizes at IX Osaka International Mandolin Competititon, The XXIII Mandolin Competition of Japan, The 1st All-Russian Musical Competition, The Necheporenko International Competititon, the Gold medal at the 10th Delphic Games of Russia.
Since 2014 she is a lecturer in the Gnesins' Russian Academy of Music and a leading soloist of the Ossipovs' National Russian folk instruments orchestra. Ekaterina's deep interest in outreach activities focused on her instruments is witnessed by her collaborations with contemporary composers. She has played about 15 world premieres of new compositions for mandolin and domra written by Efrem Podgaits, Alexander Tsygankov, Michael Bronner, Kirill Volkov.
In 2018 she became the candidate of Art Criticism with the dissertation «Mandolin and domra performing art: ways of development and collaboration». She is regularly invited as a jury member of various musical competitions, teachers seminars and workshops in many cities of Russia. Together with her teacher Vyatcheslav Krouglov in 2011 she founded the International Festival «Strings of Young Russia» in Moscow, which aims to develop the plucked stringed instruments' art.